We love baking (and eating!) cookies, and since 1991, O' My Goodness has supplied delicious, hand-decorated bulk cookies to some of the biggest names in retail. And they really are so good that customers would taste them and exclaim "O' My Goodness!" That's how we named our company.
O' My Goodness is an artisanal bakery with sufficient capacity to serve major retailers, and our cookies taste homemade. We produce decorated butter and gingerbread cookies in a wide variety of attention-grabbing, colorful designs with batch-to-batch consistency. O' My Goodness partners with a variety of customers, including large in-house bakeries, specialty grocers and other independent retailers like gift, card and coffee shops along with online/catalog retailers.
We supply what you need from individually wrapped cookies in upscale packaging to bulk cookies sold by the pallet. We also sell bite-size cookies, which are popular for gift boxes/tins and in pillow boxes typically combined with a larger size decorated cookie. O' My Goodness provides gift packs, custom baking and private label items. Our experienced professionals can help you with everything from product design through packaging.
One of our secrets to success is the ability to supply our customers with a changing array of kosher-certified, nut-and-peanut-free cookies designed to appeal to consumers' seasonal focus. From traditional holiday cookies to those geared to themes like sports, birthday, wedding, summer fun and back-to-school, we offer retailers more than 20 different buying occasions to drive sales.
O' My Goodness is GMP Certified by AIB International, and we have made a practice of honoring our commitments to deadlines and quality. Every one of our employees is empowered to pull product if they feel it doesn't meet our high standards for quality. Our longevity as a company is a testament to their vigilance.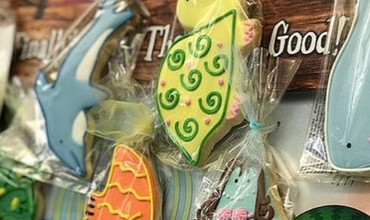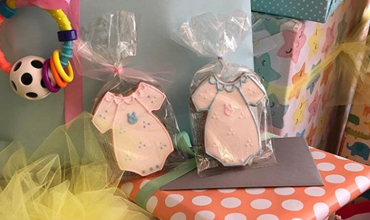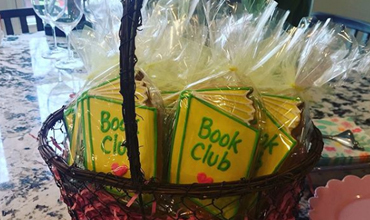 Homemade Taste
A recipe from Cindy's grandmother inspired our cookies, and we stay faithful to that family tradition with beautiful designs that taste as good as they look.
O' My Goodness was founded in 1991 by Cindy and Andy Ousterhout and is rooted in Cindy's love for baking delicious, gorgeously decorated cookies. The company sprang from her reputation for making a wonderfully wide variety of Christmas confections. Friends began asking her to bake cookies for them, and the requests grew by word-of-mouth. We soon outgrew the ability to work out of our home.
Local grocers started carrying the cookies, and we received our first big national break just two years later when the upscale Neiman Marcus department store became a customer. Like a number of our first customers, Neiman Marcus remains a customer today.
We moved into our own commercial bakery in 1995 and started to grow exponentially through regional grocers and more upscale stores like Nordstrom, Horchow, Saks Fifth Avenue and Balducci's.
Our cookies are a favorite choice for catalog covers including Neiman Marcus Mother's Day, Dean & Deluca holiday and Easter, Celebration Fantastic (many times) as well as Harry and David twice.
Now, they can be found across many channels including cozy tea and coffee shops, in-house bakeries, specialty grocers and some of the largest online gift retailers.
What Our Clients Say
"
The MADISON, WI cookies that you've been making for us continue to be a huge hit. Also, I'd just like to say that our clients were smitten with their cookies! Thanks a million!
- Maureen D., Corporate Accounts
"
The BEST Decorated Cookies that exist. I have used O'My Goodness for my business and personal use for years. Many cookies look pretty but Cindy has unique designs and they are absolutely delicious! I've been to their facility and know the care they take in top quality fresh products and clean production areas. I shopped around before I found O'My Goodness! and now wouldn't buy from anyone else.
- Sue M.
"
They have made the best tasting decorated cookie I have ever tasted. The cookies are addicting with their buttery, fresh taste. The perfect addition to any theme party! I have been ordering and purchasing these cookies for years and always have my party guests asking for the details as to where they can get them.
- Debra T.